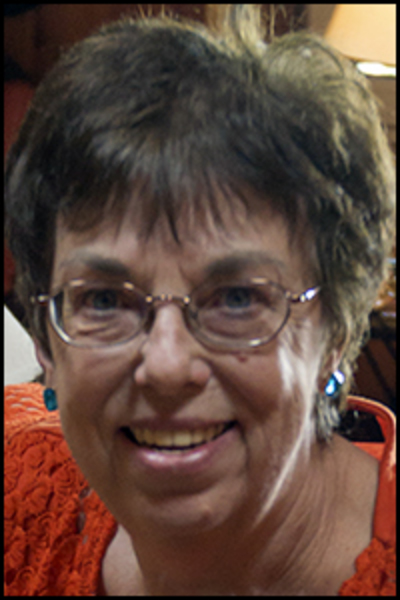 Follow story
Receive email updates when there are changes to this story.
Sheryl Louise White Batey
February 03, 1949 - December 16, 2017
Bangor
Sheryl Louise White Batey (Sher) was one of a kind, with a fiery heart of gold. Always making people laugh, she was known for her hilarious metaphors, wit and varied knowledge. When family and friends needed answers, they looked to Sher. She loved the outdoors and sports. Her favorite sport was horse racing, and she was an avid Boston Red Sox and New England Patriots fan. You wouldn't want to bet against her picks. She especially loved talking football with her daughter, Erika.
After a tough battle with cancer, Sher passed away on Saturday, December 16, 2017, at the age of 68, surrounded by the love of family and friends. She kept her fire and humor right up until the end.
Sher was born to parents Orie Frank White and Ruth Arlene Page White on February 3, 1949, in Dexter, ME. She grew up as the eldest of five children and attended Piscataquis Community High School where she was voted class clown. Her high school yearbook quote continued to be her favorite - "Ashes to ashes, dust to dust. If God won't take her the devil must." She is raising hell with God now.
Sher married James Vernon Batey in 1970, and together they had two children. She is survived by her daughter, Erika Batey Mellett and her husband Scott of Miami Shores, Florida; her son, Joshua Miles Batey and his wife Ashley of Dover-Foxcroft; her three sisters, Nancy Jean Glidden and husband Mike, Peggy Sheehan and husband Jack, and Bonnie Hall and her husband Jim; her brother Robert Miles White; six nieces and nephews, Amie Lee Shuford, Rebecca Ruth Grant, Bryan and Corie White, Kellie and Kelsey Martel; and six grandchildren, Ivy, Olivia, Stephen, Brandon, Miles and Owen.
A summer graveside service will be held at Cambridge Memorial Garden Cemetery. Sher wished to be cremated and her ashes will be scattered over Horseshoe Pond, one of her favorite spots. In lieu of flowers, please send donations in her name to The Bonnie J. Addario Lung Cancer Foundation, 1100 Industrial Road #1, San Carlos, CA 94070, www.lungcancerfoundation.org.
The family would especially like to thank Diana Richardson, Sher's life-long friend for her remarkable support and loving care and her husband David Richardson for his support and friendship. The family also sends a special thank you to the staff of Eastern Maine Medical Center for their care and treatment in her last days.
"Fly on, fly on past, the speed of sound. I'd rather see you up than see you down. So, leave me if you need to, I will still remember. Angel flying too close to the ground."
Keep making everyone laugh, Sher.
Published on
December 21, 2017
Send flowers
in memory of
Sheryl
See more
Obituary published in
Events
Graveside service
Cambridge Memorial Garden Cemetery
Ripley Rd, Cambridge, ME 04923, United States
Graveside service
Cambridge Memorial Garden Cemetery
Ripley Rd, Cambridge, ME 04923, United States
Guestbook
Print Guestbook
Share your condolences and special memories.
The guestbook expires on March 20, 2023.
Share a message.
Add photos to your message
8 posts
What can I say?! YOU were my fav. You were the one I would randomly drive to see in OOB just for the day. You taught me to never ever throw away a scratch off ticket without taking to the store to make sure it was a loser. You taught me about all the "95s" to take around the cities on my drive to GA. You were always there for me without judgement. I could call and laugh with you for hours. I loved our secret conversations that we had and our dumb nicknames. You were one of a kind with a grin that lasted could make anyone smile. You were smart as a whip auntie. Give Amanda a big hug for me while you guys live it up without me for now. Until next time auntie. I love you.
Oh Sherry.....I am so sad to hear of your passing...I was just talking about you last week...(remember the story about the Nissen delivery man, and the birthday cards addressed to your son?) I wish I had been able to catch up with you. I have though of you often and laughed....Thank you for being part you and for being my friend....Rest in Peace sweet lady
So Sorry for your Loss. Cherish all the Memories , My Thoughts And Prayers Are with you.
Sher and I spent many an hour together during three semesters at UMF. Sher possessed a wit unlike other. She kept us laughing in a most charming but irreverent way. Given a couple of beers, she was hysterically funny. We never overdid it but we certainly had fun! Wherever she is now, she's probably listening to "Crimson and Clover" on the radio and entertaining a crowd. I can't say rest in peace. Sher would be bored to tears. She needs a party and and a lot of laughs. She'll find them!
I have not seen Sher in many years. We attend PCHS and graduated the same year. She always loved to have fun. She will be missed by all who knew her.
To Sheryl's family. I have a lot of good memories when Sheryl was real young.She and Bonnie spent a lot of time at my house. They were always so happy and Sheryl always had a smile and the girls were so like little devils. I have never forgotten those precious times. You are so right she is really flying high and no more pain or worries. Rest in Peace Sher.
Bonnie and family;
I am so sorry to read of your loss. Your sister was a great lady! Thinking of you all and sending hugs and lots of love.
Natalie, Mark, Claire and Matt Hamlin
So sorry to hear of Sher's passing. I have so many fond memories of times spent with her. From the time I was young and she and her friends hung out at our house to play cards with Mom and Dad to our fishing trips at West Branch when I was older. Sher was always the life of the party.
Please accept my condolences.....Val